Green living
Sustainable Gift Guide for the 2022 Holiday Season
With the holidays just around the corner (and stores already advertising major sales), we at Sourgum Waste are here to help you give the gift of sustainability this holiday season.
We have researched a variety of fun and useful gifts that are carbon neutral, compostable, made of recyclable materials, or otherwise environmentally friendly to fit all your gift-giving needs, and also your budget.
Click to jump to gifts for him, gifts for her, or gifts for children.
Gifts for Him
For the Active Man:
Sustainable Savings
Stojo 20 oz Sports Bottle
Price: $25.00 on company website
Why we love it: These reusable cups were designed by Dads for Dads, making it easy for everyday people to say no to the disposable coffee cup culture. These cups are collapsible, leak-proof, and safe for use with both hot and cold liquids. The strap on the side of the container opens so it can be attached to a bike or sports bag for your convenience. They even come in a variety of colors.
These cups are FDA and LFGB Platinum Certified—the highest food safety standard in the world. They are free from BPA, BPS, cadmium, mercury, lead, and all California Prop 65 harmful substances. Also, the company is committed to eventually using recycled plastics in their products.
Sustainable Splurge
Allbirds ReRun Men's Trail Runners SWT
Price: $89.00 - $99.00 on company website
Why we love it: These brightly colored athletic shoes are sustainable several times over. The Allbirds brand is truly dedicated to reducing the waste that comes with producing fashion products. They use all-natural or recycled materials and work with carbon-offsetting programs to help reduce their carbon footprint.
Allbirds Rerun is the company's way of recycling their products, preventing their shoes' limited edition colors and styles from being truly limited. If you already have a pair of Allbirds shoes, you can trade them in for a $20 credit. This helps you buy an updated pair of shoes and allows someone else to get a lightly-used pair at a reduced price.
Eco-Friendly Investment
PAPABABE Adjustable Dumbbells Cast Iron with Connector
Price: $189.00 on Amazon
Why we love it: These dumbbells are no dummies! They offer 105 pounds of steel for gaining muscle. They are not only a set of dumbbells, they offer a connector for a transition into a barbell workout. This saves space and materials, so you don't have to buy a new piece of equipment (or another storage space).
The entire item is made of a durable cast iron material with a powder coated finish to prevent rust and corrosion.
For the Bearded Man
Sustainable Savings
Professor Fuzzworthy's Bass Boar Bristle Beard Brush
Price: $12.50 (reg. $19.50) on company website
Why we love it: This brush is a basic staple for beard care. It is made of silver natural bristles with ultra-high density tufting for conditioning. It also has a sustainably-sourced Australian bamboo handle. This brush is ergonomically shaped to fit the face and neck with the handle tailored to align comfortably with the natural curves of the palm and thumb. For someone with a bit of a scratchy beard, this brush can take on those tangles for a softer mane.
Sustainable Splurge
Professor Fuzzworthy's New Beard Essentials Grooming Kit Gift Set - Beard Shampoo Bar, Beard Oil & Brush
Price: $58.95 on company website
Why we love it: Another favorite from Professor Fuzzworthy, this beard kit gives your bearded person an introduction to the world of beard care with a sample-size kit of specialized beard shampoo, beard oil, and a brush (mentioned above).
On top of making sustainably-sourced brushes, Professor Fuzzworthy is a zero-waste company, with their Beard Care, Grooming, Hair Care & Skin Care products being handmade from 100% natural & organic ingredients. They are sulfate, paraben, palm oil, fragrance, plastic & cruelty-free.
Eco-Friendly Investment
Golden Beards Full Combo Initiation
Price: $146.00 (reg. $204.00) on company website
Why we love it: For the seriously bearded man in your life, this is just the gift for him. All of the Golden Beards beard care products are made in small batches with natural oils. The combo also includes two brushes (one full size and one travel size) made with boar bristles and 100% pear wood handles.
P.S: They also have vegan beard brushes available, made from cactus tree fibers, if you are vegan or have a swine epithelium (pig or boar) allergy.
For the Cooking Man
Sustainable Savings
Eating for Pleasure, People & Planet by Tom Hunt
Price: $22.13 on Amazon
Why we love it: This is an amazing guide book for environmentally-conscious eating. This book offers practical tips on reducing food waste and presents seasonal shopping guides for produce, along with flowcharts for creating pancakes, grain bowls, and salads. If you aren't already vegetarian, this book might make you one!
Tom Hunt, the author, is an award-winning chef, writer and food waste campaigner. He writes a weekly column for Feast magazine in the Saturday Guardian offering ingenious no-waste recipes. He is also a campaigner and ambassador for Action against Hunger, Soil Association, Slow Food International, and The Fairtrade Foundation. Visit his website for more information, and even more recipes.
Sustainable Splurge
Click and Grow The Smart Garden 3
Price: $69.95 (reg. $99.95) on company website
Why we love it: The Smart Garden 3 is an indoor garden that cares for itself! You can grow fresh, flavorful herbs, fruits and vegetables. This allows you to experience all the benefits of having your own garden, no matter where you live.
The Click & Grow indoor garden uses biodegradable plant pods that have seeds and nutrients inside to grow your herbs, small fruits and veggies, and decorative plants. Indoor plants are proven to improve health through consumption, reduce stress, improve air quality and overall happiness. Smart Gardens make it possible to grow plants 365 days a year in even the busiest households, making it the perfect gift for a foodie man on the go.
Eco-Friendly Investment
Caraway Ceramic Cookware 12-Piece Ceramic Nonstick Cookware Set
Price: $395.00 at Bed Bath & Beyond
Why we love it: This is a set of pots and pans that is versatile and ready for whatever kind of cooking you do! This sturdy, easy-to-clean cookware set is produced in such a way that it releases less carbon emissions when produced compared to traditional non-stick cookware.
The cookware is free from heavy metals, PTFE, PFOA, lead and cadmium. It is oven-safe up to 550℉ and is safe for electric, induction, and gas stovetop use. It also comes with its own storage rack and cork trivets to make using these products a little bit easier.
For the Hosting Man
Sustainable Savings
Woodcut Memory Game by Brian Nash Gill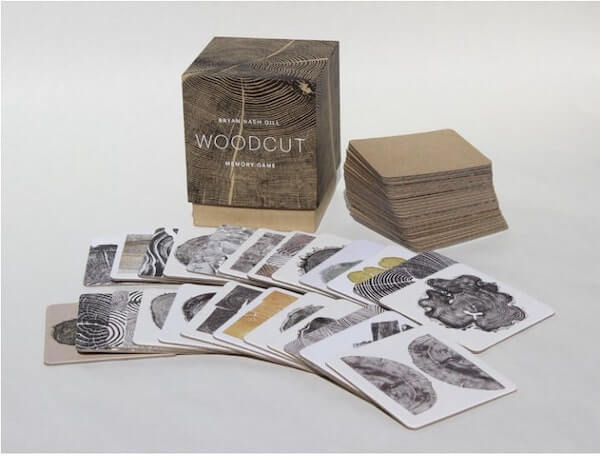 Price: $17.06 on Amazon
Why we love it: It's fun! This simple memory card game is made on cardboard, with print images on top. The images are from Brian Nash Gill's collection of tree cutting (cross-sections of a tree) pictures. It includes fifty-two pairs of distinctive woodcut prints nested in a handsome keepsake box. The arboreal rings come to life in exquisite detail to challenge your mind and beautify your table. They are the perfect way to add some sustainable rustic fun to your next party.
Sustainable Splurge
SHANIKStore Acacia Multi-sectional Cheese Board and Knife Set, Wooden Serving Tray for Food, Meat and Cheese Platter
Price: $89.99 (reg. 119.99) on Etsy
Why we love it: This cutting board is made from Acacia wood, a sustainable and planet-friendly material. Acacia furniture works as long-lasting carbon storage. As a fast-growing and adaptive species, acacia trees enable a sustainable supply of timber.
Not only is the type of wood that makes this cutting board adaptable, but the cutting board itself is adaptable to all of your charcuterie needs. It has two levels, with compartments for spreads and small snacks. It also comes with cheese knives for your cheese cutting needs. It can be engraved for an additional fee.
Eco-Friendly Investment
Whiskey Enhancing Oak Infusion Chamber
Price: $175.00 on Uncommon Goods
Why we love it: The secret is their ingenious infusion chamber. How many spheres you use and how long you allow the sweet oakiness to deepen is up to you. You can experiment with blends of spices, herbs, and fruit to customize the flavor of whisky or any spirit. The decanter comes with ten white American oak spheres. This allows you to impress your guests with the woody flavors of America.
For the Fatherly Man
Sustainable Savings
Tentree Organic Bucket Hat
Price: $35.00 on company website
Why we love it: A bucket hat is a staple for dads everywhere. This one is made with 100% organic cotton, grown without the use of synthetic pesticides, herbicides or fertilizers. It comes in a variety of shades, perfect for dads who need a pop of color in their wardrobe.
Sustainable Splurge
The Dad's Ultimate Bucket List
Price: $50.00 on Uncommon Goods
Why we love it: This gift allows you to give the gist of doing, rather than having. This collection of 100 bucket list items has something for every dad to do. Contrary to popular belief, spending quality time with Dad can be more than just watching a game on TV or sharing family dinners.
This pack has color-coded themes that guide the way through activities such as scrapbook-making, Hula-Hoop contests, and even prank-calling relatives (all in good fun, of course). Divided into "to do," "doing," and "done," dads and kids of every age can easily keep track of the adventures they've had and the fun still to come.
Eco-Friendly Investment
Everlane The ReNew Transit Backpack
Price: $95.00 on company website
Why we love it: Don't tell your dad he's not cool enough for a backpack if he's using this one. The ReNew Transit Backpack is available in three cool colors and is made from 100 percent recycled polyester with a water-resistant finish. It is perfect for dads on the go in the city or otherwise traveling dads. It's complete with plenty of pockets and compartments to suit his needs. From a 15" exterior laptop pocket to zip pockets for passports and tickets, it even has interior slip pockets for documents or notepads, plus two water bottle holders.
For the Hungry Man
Sustainable Savings
Women's Bean Project Set of 3 Grill Mixes
Price: $19.50 on fairtradewinds.net
Why we love it: This gift helps you give the gift of grilling that gives back. The Women's Bean Project uses a transitional employment program to help women in Denver with significant barriers break into the economic mainstream and secure good jobs. The women in the program have a chance to create a new future, become confident, and secure entry-level jobs that will lead to careers. They can overcome their backgrounds of chronic unemployment, poverty, abuse, incarceration, or drug-use and work to build a stable life for themselves. Additionally, these spice blends are made in the United States and are all kosher certified.
Sustainable Splurge
MUD/WTR Morning Routine Starter Kit
Price: $60.00
Why we love it: This coffee alternative provides more benefits than the regular cup of Joe with less caffeine. This is the perfect way to give a little jolt of energy without the jitters and the crash that follows. It is made with 100% organic ingredients, using both the mycelial biomass and fruiting bodies of mushrooms, all grown in the United States.
Eco-Friendly Investment
Frog Hollow Farm Charcuterie, Cheese & Fruit Box
Price: $218.99 on company website
Why we love it: This charcuterie box delivers a number of goods straight to your door for the holiday season. Frog Hollow Farm has been farming organically for over 30 years and are deeply committed to regenerative farming in a way that cares for the planet and community. They work to build climate resilience by nurturing healthy soil, capturing carbon, and fostering biodiversity through on-farm compost production, cover crops, and no-till orchard management.
For the Technical Man
Sustainable Savings
Pela Grip - Forest Floor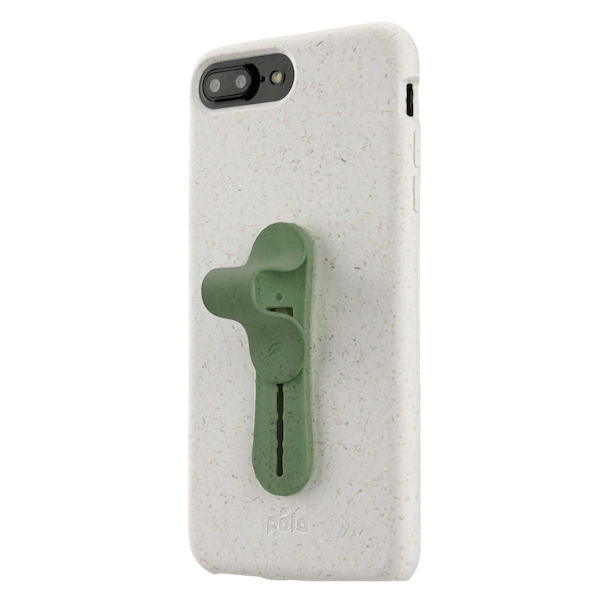 Price: $14.95 on company website
Why we love it: With a comfortable and adjustable loop, this little lifesaver secures firmly to your phone case and protects your phone from accidental drops. It also does double-duty as a stand for horizontal viewing on the go. Now you can grip and stabilize your device with ease - no more shaky selfies!
The Pela Grip is made with Flaxstic®. The material has been tested to be safe and free of phthalates, BPA, cadmium and lead and is verified to meet child safety standards in the U.S., Canada, Europe, Australia and New Zealand. It has a lower carbon footprint and lower greenhouse gas emissions than traditional plastic. It can also be left to break down in a home composting environment.
Sustainable Splurge
Nimble Recycled Phone Case
Price: $24.95 (reg. $62.95) on company website
Why we love it: This case is made with at least 72% certified recycled plastic from three types of post-consumer plastic; including recycled polycarbonate, recycled TPU, and recycled silicone. It is also 15-foot drop test certified, keeping your phone generally protected from any drops or tumbles. It also comes in a variety of styles and colors, compatible with both iPhone and Samsung smartphones.
Eco-Friendly Investment
House of Marley Get Together BT Portable Bluetooth® Speaker
Price: $169.99 on company website
Why we love it: This sustainable wireless speaker does it all. You can enjoy a continuous 8 hours of playtime up to 98 feet away from the speaker while still maintaining connection. It is compatible with IOS and Android.
The speakers are designed with solid bamboo, eco-friendly REWIND™ fabric (a blend of 30% reclaimed organic cotton, 30% reclaimed hemp, and 40% recycled PET - polyethylene terephthalate) and is delivered in 100% recyclable packaging. Visit their website for more information on the sustainable materials used in House of Marley products.
Gifts for Her
For the Active Woman:
Sustainable Savings
Shreddy The Sunset Peach Long Band (Light)
Price: $11.00 (reg. $18.00) on company website
Why we love it: This lightweight resistance band is perfect for beginners to both working out and living sustainably. These resistance bands help to target, isolate and strengthen your muscles. They are made from a polyester, custom cotton and rubber blend, so they won't roll up or slide around while you're working out. They're latex-free, completely vegan and come in a sustainable cotton drawstring pouch for taking on your travels or in your gym bag.
Eco-Friendly Investment
The Girlfriend Collective Luxe Legging 2-Pack
Price: $165.60 (reg. $184.00) on company website
Why we love it: These leggings are the perfect pants to wear for your workout, regardless of what size you wear. This brand is one of the most size-inclusive sustainably-minded brands, offering sizes from XXS to 6XL. The Luxe leggings are a medium compression heavyweight stretch legging that have a high rise waist and a subtle matte sheen. The 2-pack can be customized with different colors and sizes, so you have the variety you need for your workouts.
The Luxe style of legging is made with 77% recycled plastic bottles (RPET) and 23% spandex. Some Girlfriend Collective items are made of different materials, and some of them are available for trade-in to be recycled for a gift card. For more information about their sustainability guidelines, frequently asked questions page here.
For the Beautified Woman:
Sustainable Savings
RMS Straight Up Volumizing Peptide Mascara
Price: $28.00 on company website
Why we love it: This mascara does a lot in a little recyclable package. Many of the RMS Beauty products come in recyclable glass jars, and since 2022, many of their product lids are 100% PCR (post-consumer-recycled). The original formula mascara has rich mineral pigments and certified organic oils, butters, and peptides to give your lashes life with a glossy, light-reflective finish.
This is the perfect gift to give someone who is new to sustainable makeup, so they can see the quality for themselves without you spending a fortune on their gift. Visit their website for more information about the company's sustainable practices.
Sustainable Splurge
ATHR BEAUTY Rose Quartz Crystal Gemstone Eyeshadow Palette
Price: $48.00 on company website
Why we love it: When this product launched in 2018, it was the first zero-waste eyeshadow palette. ATHR BEAUTY is committed to producing makeup that is good for your skin and the earth.
This Gemstone Eyeshadow Palette has ingredients like Desert-Derived Moringa Seed Oil, Organic Shea Butter, Organic Coconut Oil, and Rose Quartz Powder to restore health and moisture to your skin while making it shine with color. The palette has both warm and cool colors, so it is perfect for eyeshadow looks year-round. The packaging is also zero-waste, made on Forest Stewardship Council-certified paper printed on water-based soy ink.
Eco-Friendly Investment:
Axiology Super Fan Pack Vegan Multi-Use Balmie Set
Price: $98.00 (reg. $210.00) company website
Why we love it: This is the ultimate kit for the color lover! These Lip-to-Lid Balmies are plastic-free, multi-use crayons for eyes, lips, and cheeks. They leave a colorful shimmer wherever you use them. This kit comes with the complete collection of 14 shades that range from cool pinks to warm berry-purples.
These sticks are free from fragrance, alcohol, gluten, palm oil, synthetic preservatives, and animal-derived ingredients. The packaging is 100% zero waste, with recycled paper around the crayons that are stored in a recyclable carrying case. These Lip-to-Lid Balmies have a drier and more matte texture, perfect for people with oily skin or who use oil-based products.
For the Cooking Woman:
Sustainable Savings
Olsen and Olsen Beeswax Food Wraps
Price: $20.00 on company website
Why we love it: These beeswax food wraps are a sustainable and stylish way to preserve your food as an alternative to plastic wrap. They come in a variety of colors and designs. Each set includes 3 sizes of beeswax squares, 8 inches, 10 inches, and 12 inches respectively.
These products are made by a family business using locally-sourced ingredients from Quebec, Canada. They are handmade with organic beeswax, organic jojoba oil, and organic pine rosin. They are washable, reusable, and antibacterial - the future of zero-waste food storage.
Sustainable Splurge
Full Circle Recycled Dish Cleaning 4-Piece Set
Price: $18.00 (reg $24.00) on Dropps
Why we love it: The Bamboo Kitchen Essentials Set comes with a soft hand brush, a stiff hand brush, and a scrubbing wand and is ready to take on those holiday party dinner dishes. Bamboo absorbs water quickly, so make sure not to leave the set in water. Besides bamboo, the brushes are made with a combination of sisal and coconut fibers. This product can also be recycled.
Eco-Friendly Investment
Caraway Non-Stick Ceramic Coated Baking Sheet Duo
Price: $90.00 (reg. $100.00) on company website
Why we love it: Anyone who spends any time in the kitchen knows that baking sheets are a kitchen essential! Caraway's Baking Sheet Duo, with 18x13" Large & 15x10" Medium Baking Sheets, features a naturally slick non-toxic ceramic-coated interior. This set comes in a variety of shades (that match the 12-piece cookware set mentioned above) so it is a pop of color for every kitchen. From roasting to baking, these trays can handle it all.
For the Hosting Woman:
Sustainable Savings
Recycled Wine Bottle Platter
Price: $24.00 on Uncommon Goods
Why we love it: Rather than see the glass half empty once the drinks have been poured, glasswork artist Val Huegerich revives wine bottles so they can join the revelry once again. She uses discarded wine bottles gathered from the roadside and national forests near her home in Wyoming to create these amazing platters. We love products that are sustainable AND clean up parks and communities!
Rustic yet refined, these sets are ideal for the avid entertainer and are great to slip into a picnic basket for a fun outdoor feast. They are handmade in Laramie, Wyoming. What is truly special about these is the fact that no two sets are the same, making these platters a unique talking piece for your host's next dinner party.
Sustainable Splurge
Hand-Knit Pot Stand Set
Price: $100.00 on Goodee
Why we love it: Takada is based in Wakayama Prefecture in southwestern Japan. They are revitalizing the craft of making brushes and brooms with organically-farmed and locally-harvested windmill palm fibers ⁠--- an ancient tradition of Japan. This set comes with two pan holders, a 7-inch and 9-inch circle, perfect for placing large pots on the table without ruining an expensive table cloth.
Eco-Friendly Investment
Bearaby Tree Napper Weighted Blanket (15 lbs)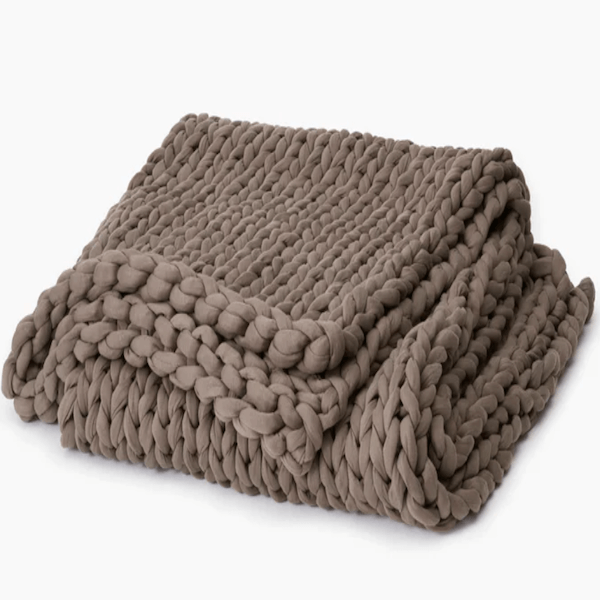 Price: $264.00 on company website
Why we love it: This weighted blanket is perfect for anyone who needs to sleep wrapped up in a hug! The Tree Napper weighted blanket is made with TENCEL, a fabric made with the earth in mind. The fabric originates from the renewable raw material, wood, created by photosynthesis. The fibers are certified as compostable and biodegradable, and thus can fully revert back to nature. The blanket also is weaved to allow airflow, creating a cooling effect, so this sustainable snuggle is safe even in warm weather. They are also incredibly soft, so they are perfect for sleeping.
For the Jewelry Wearing Woman
Sustainable Savings
TARA Project Brass Leaf Dangle Earrings
Price: $12.99 on Ten Thousand Villages
Why we love it: These earrings are hand-made in India by artisans supported by the Trade Alternative Reform Action (TARA). This organization not only helps the planet by supporting the creation of sustainable goods, they help people by creating avenues of economic growth for economically disadvantaged artisans and craftsmen of Delhi, India and its surrounding areas in the unorganized home-based sector (small home based businesses).
They are a fair trade company dedicated to "making trade fair" by stopping the exploitation of workers and supporting literacy in India. These earrings are a great way to support women and make the jewelry wearing woman in your life happy.
Sustainable Splurge
31 Bits Organic Round Bangle
Price: $76.00 on company website
Why we love it: This bold bangle bracelet also comes from an organization with a cause in helping impoverished people in Uganda. This organization began when a group of college students went on a trip to Uganda and discovered many sustainable artisans making jewelry, but having no means to sell them. This company provides a market for uneducated women in Uganda to become world famous artisans. Visit the company website for more information about 31 Bits.
Eco-Friendly Investment
Penh Lenh Heart Charm Choker
Price: $132.00 on The Little Market.
Why we love it: What better way to show her some love this holiday season than by giving her the gift of giving back to women in need? This beautiful necklace was made with conflict-free gold and has a simple yet intricate design of tiny interlocking discs. Each purchase empowers women in Cambodia to gain access to fair, dignified employment, skills training, and educational opportunities through the Penh Lenh organization. Visit their website for more information on the company's practices. (P.S. This is a great gift for Mom!)
For the Selfcare Woman
Sustainable Savings
Brooklyn Made Natural Clay Face Mask
Price: $16.00 (each) on company website
Why we love it: These face masks are made with all natural ingredients to do the best work possible for your skin. It is recommended by the company website to mix your powdered mask with water, rose water, or apple-cider vinegar. Each mask comes in a 4oz glass jar with a wooden spoon, so they are reusable and compostable, respectively.
Sustainable Splurge
This Stuff Goes Bad Day & Night Body Butter Combo
Price: $40.00 on company website
Why we love it: This company goes a long way to have 100% recyclable packaging, remove all preservatives, and use only natural and perishable ingredients for its products. All materials used for packaging these items are recyclable. This Stuff Goes Bad not only removes water from most of its products, but it also has 100% recyclable packaging. Also, This Stuff Goes Bad has carbon neutral shipping, and you can even request a free shipping label to send back your original jar to be refilled with a new product purchase (and get 20% off)!
These body butters are full of natural ingredients that soothe sensitive skin and help treat dry and cracked skin. If you want to be sure about why these ingredients are in this body butter set, visit their website for a breakdown of the ingredients.
Eco-Friendly Investment
MyZeroWasteFamStore Christmas Special Spa Gift Set
Price: $59.99 on Etsy
Why we love it: This self-care gift set has it all! This handmade set is stuffed with holiday spirit (and scents). The box includes traditional mulled wine mix (an organic spice mix), winter spice organic soy candle (infused with organic essential oil), candy cane mint scented bath bombs, winter spices organic bath salts (and spices), mint treasures: chocolate and mint scented bar soap, and cozy fuzzy socks. Enjoy that holiday feeling with this self-care bath kit. (P.S. This is also a great gift for Mom!)
Gifts for Children
Baby
Sustainable Savings
Pebble Rattle - Snail
Price: $13.82 on company website
Why we love it: These little rattles are sustainable, ethical, and help you give back. Proceeds from purchasing go to artisans in Bangladesh, helping to provide sustainable, regular and flexible employment to workers in need. This product has a 100% organic cotton exterior with a 100% polyester fill (and rattle) for machine washable baby rattling fun. Pebble offers many categories and sizes of rattles and infant toys, from baby bugs to little fruits and veggies.
Sustainable Splurge
3 Sprouts Play Mat - Whale
Price: $29.00 on company website
Why we love it: This is a plush 100% cotton play mat that baby will love to lay on! It comes in a variety of colors and patterns, and is the perfect size for a little baby. It also converts into a toy carrying bag, it does double duty for a baby on the go.
Eco-Friendly Investment
Our Green House Organic Baby Gift Box - Guess Hoo's Here
Price: $100.00 on company website
Why we love it: This is the perfect gift for a newborn or an expectant family. Inside this gift box is an organic baby blanket and hat, organic owl rattle, and a card that explains how this gift box gives back. Our Green House gives back to many different causes. This particular basket gives 5% to conservation and waterway cleaning in America. Visit their website for more on their impact.
Infants
Sustainable Savings
Melissa & Doug Jungle Friends Jumbo Knob Puzzle - 3 Pieces
Price: $14.99 on company website
Why we love it: This jungle puzzle is great for little hands to complete! This puzzle is made with Forest Stewardship Council-certified wood and comes in recyclable packing, on top of being 100% carbon neutral. Melissa & Doug partner with One Tree Planted (so does Sourgum Waste) to plant trees for reforestation. They strive to produce toys that are inclusive and skill-focused, because kids learn when they play.
Sustainable Splurge
Zeki Learning Forest Habitat Storyboard
Price: $40.00 (each) on company website
Why we love it: This sustainable storyboard is the perfect way to introduce your little one to social emotional play! Zeki Learning is a non-profit, educational toy brand that produces ethically-made learning resources. The toys are created with Montessori principles that encourage fine motor skills, sensory skills, language learning, and emotional intelligence. There are four different versions of the storyboard including forest, sea, family, and safari.
Eco-friendly Investment
Ever Earth Garden Activity Cube
Price: $129.99 on Earth Hero
Why we love it: Littles will never get tired of this! This activity cube has endless fun for the infant in your life with a bead top, maze, shape sorter, abacus, moving cogs, magnetic shape sorting blocks, and more. This toy is made with Forest Stewardship Council certified wood with low impact ink and dye. They partner with the first FSC-Certified forest in China, to renew the forest by having a tree planted for each toy purchased.
Young Kids
Sustainable Savings
Adventerra Games Ecologic Matching - Animals at Risk
Price: $19.99 on company website
Why we love it: This matching game allows young children to learn about animals at risk by matching baby animals with their parents. This game is made using Forest Stewardship Commission certified cardboard and plant-based ink, so it is 100% recyclable and biodegradable. This game set comes with 32 matching pairs of at-risk animal families and a guide for adults on eco-education regarding at-risk animals and conservation.
Sustainable Splurge
Children's Wooden Kitchen Set
Price: $32.00 on Connected Goods
Why we love it: This set of handmade child-sized cooking utensils is a great way to introduce your child to cooking (and hopefully eating) healthy and sustainable meals. Enjoy Montessori style play with your child by allowing them to help out in the kitchen at home with their own tools. This set includes 9 kitchen utensils packaged in netting for sustainable play and storage. This play set is handmade in Germany.
Eco-friendly Investment
Make-A-Fort Advanced Fort Kit
Price: $157.84 (reg. $242.83) on company website
Why we love it: This fort building kit lets your child's imagination grow (without making a mess with your pillows and blankets). This Kit can make 9 traditional designs including forts, giraffes, puppet theaters, jets, and more. However, the product is customizable to let little imaginations design their own fun. This toy is also colorable, covered in doodles that invite little artists to color them in. The kit comes with panels and connectors that are made with durable recycled cardboard that can be recycled again at the end of life of the toy.
Older Kids
Sustainable Savings
Adventerra Global Warning Board Game
Price: $29.99 on company website
Why we love it: Another amazing find by Adventerra, this game guides kids to find the best solutions to the environmental challenges that emerge during the game. As they try to clean up pollution, global temperatures keep rising with each turn. This unique cooperative game teaches players to balance collaboration with competition. This game is made using Forest Stewardship Commision certified cardboard and plant-based ink, so it is 100% recyclable and bio-degradeable.Everyone must work together to save the world, even toy-making companies!
Sustainable Splurge
BRIO Pinball Challenge
Price: $71.99 on Amazon
Why we love it: This 2-player game is perfect for kids with a competitive streak. It is made in part with Forest Stewardship Commission certified wood. The company has detailed their corporate social responsibility and ethical standards on their website, along with a breakdown of what it means that their wood is FSC-certified.
Eco-friendly Investment
Maxi Deluxe ECO Scooter
Price: $145.00 on company website
Why we love it: This green scooter is made from recycled fishing nets and plastic. Micro Kickboard donates a portion of annual sales to 1% for the Planet, an organization that supports environmental efforts around the world. This scooter is great for children who are still developing balance, as the tri-wheel design supports kids while they scoot! This scooter is great for school-aged or taller children as the adjustable handlebar can grow with your child from age 5-12. All parts of the scooter are replaceable so you never throw it away - plan to pass it on to a sibling, cousin or friend when your young one is done!
Looking for environmentally friendly waste services?
Sourgum Waste not only provides you with the best service at the best price, but we are also committed to sustainability. We divert waste from landfills whenever possible and plant a tree for every order placed through us.