Dumpster Rental and Sizing in Columbia MD
Fast Delivery and Pickup. No Hidden Fees. Easy Online Ordering. Friendly Customer Support.
Starting at $375
Waste Services in Columbia, Maryland
Sourgum Waste is pleased to service Columbia, Maryland. We offer waste services and dumpster rentals with options to suit all projects, from residential to commercial and in the construction sector.
All of our prices are fair, transparent, and based on your location, the debris' weight, and the type of waste to dispose of. Our dumpsters are available in different sizes and with different weight limits. We offer same-day to next-working-day delivery because we know your time is precious. Our customer service has been rated second to none; we value your opinion and choices and use them in helping you identify the best dumpster for your needs.
Dumpster Rentals in Columbia MD
Whatever your project, partnering with Sourgum Waste, a dependable haulsourcing platform, ensures your disposal experience will be easy and won't have a negative impact on the environment thanks to our sustainable practices. We have roll-off dumpsters for residential or commercial uses, including concrete, construction, and yard waste dumpsters, all available to rent. We plant a tree for every rental you place through us, to offset our carbon footprint and support the environment.
We have nothing to hide from you; all our services are clear and well-explained. We go the extra mile when our clients are involved!
Projects and Their Clean-up Dumpsters
In Columbia, getting the perfect dumpster size for your project is one of the popular concerns faced by clients, and we have gone out of our way to create a dumpster sizing guide to help you with the selection process. Choosing the right size is the first step in renting a dumpster, and it is of the easiest ways to avoid situations like going over the weight limit or overfilling and being charged overage fees. Overage fees are fully disclosed before renting your dumpster, and we make sure to help you pick the right type of dumpster to avoid them altogether.
The 10 to 30 cubic-yard dumpsters are suitable for kitchen remodeling projects depending on how small or large the project is, i.e., for small kitchen remodeling projects, rent the 10-cubic-yard dumpster, for medium, the 20-cubic-yard dumpster will suffice, while large projects will require the 30-cubic-yard dumpster. For a half-bath, full-bath bathroom, or large-bath bathroom remodeling project, rent the 10 cubic-yard dumpster, 20 cubic-yard dumpster, or 30 cubic-yard dumpster, respectively.
Foreclosure clean-up in small, medium, or large homes requires a 10, 20, or 30 cubic yard dumpster, respectively; the same with landscaping clean-up and basement, garage, or attic clean-up. While for complete demolition, only 30 to 40 cubic yard dumpsters are used. All dumpsters are available for rent in just a few clicks with Sourgum Waste's online ordering process.
With Sourgum Waste You Make a Difference
When you rent a dumpster from us, you not only get great service and pricing, but you also make a positive impact on the planet. For every dumpster rented through Sourgum, we make a donation to One Tree Planted , an organization that specializes in reforestation efforts. Every order = one tree planted. Help us heal the planet one tree at a time and order your roll-off dumpster rental today!
Trees planted so far: 16,362
The Size Selection Guide
We have 4 main dumpster sizes available in Columbia; the 10, 20, 30, and 40-yard roll-off dumpsters, but how do you know which to choose for your clean-out project? You need to know their dimensions and the projects they are suitable for. Let's get to it:
10 Yard Roll Off Dumpster
A 10 yard dumpster is the smallest size available, and is best if you do not have a lot of debris or the space to fit a larger dumpster. A 10 yard dumpster can hold 10 cubic yards of material, about 4 pickup truck loads, typically holds approximately 2 tons of debris.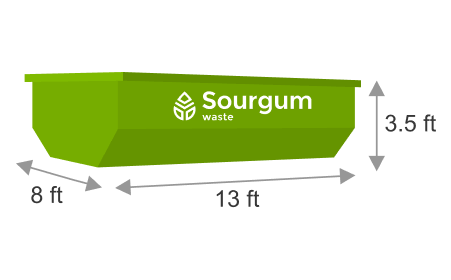 Base Package:
Delivery and Pickup. 2 Tons of Disposal.
Transparent Pricing No Hidden Fees.
20 Yard Roll Off Dumpster
20 yard dumpsters are perfect for household cleanouts, small renovation projects and large deck or roof replacements. A 20 yard dumpster holds 20 cubic yards of debris, 8 pickup truck loads, for most materials holds approximately 3 tons.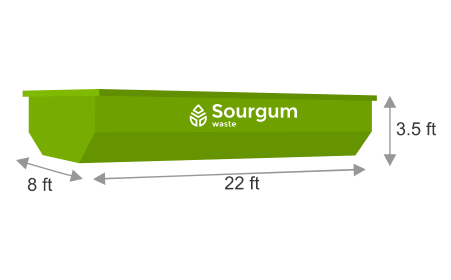 Base Package:
Delivery and Pickup. 3 Tons of Disposal.
Transparent Pricing No Hidden Fees.
30 Yard Roll Off Dumpster
A 30 yard roll off container is best for ongoing construction projects and large estate cleanouts. 30 yard dumpsters can hold 30 cubic yards of materials, about 12 pickup truck loads, typically holds approximately 4 tons of material.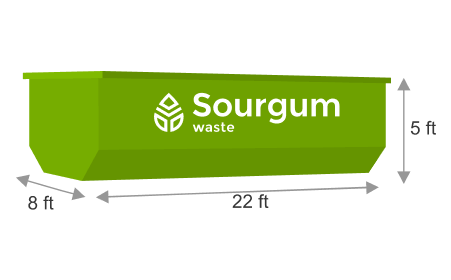 Base Package:
Delivery and Pickup. 4 Tons of Disposal.
Transparent Pricing No Hidden Fees.
40 Yard Roll Off Dumpster
40 yard dumpsters are the largest size available. They are best for large demolition projects. A 40 yard roll off dumpster can hold 40 cubic yards of materials, about 16 pickup truck loads, typically equivalent to approximately 5 tons of debris.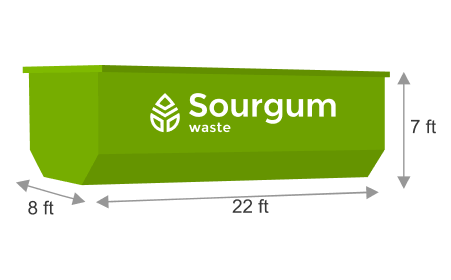 Base Package:
Delivery and Pickup. 5 Tons of Disposal.
Transparent Pricing No Hidden Fees.
Enter your address or town to see pricing.
Dumpster Sizes
It's hard to understand how much can fit into each kind of dumpster, so we put together some information about what each dumpster is best suited for.
The Rental Process in Columbia, MD
The rental process includes everything from ordering the dumpster to getting it delivered and picked up after use. All dumpster pricing is impacted by service location, material disposed of, and weight of the load. You keep the dumpster for as long as required and call us to pick it up when ready. Our dumpsters come with a complimentary rental period, which you can extend at a cost if needed.
Sourgum Waste wants you to know what you're getting and how to get it right the first time. Our easy online ordering platform lets you control the entire ordering process, including the selection of size, weight limit, and rental period, so you get the perfect dumpster for your project's needs. Still unsure? Or, do you prefer to speak to a live person? Contact us by phone or email and we will be more than happy to assist.
Do you have questions about Sourgum Waste or dumpster rental services? You are free to contact us for more details. We want to help you find the perfect dumpster! If you already know what you want, you can directly order your dumpster online.
Roll-off Dumpster Rentals in Columbia and Surroundings
Need Help?
Our chat and phone lines are open between 7am and 7pm ET, and we respond to emails within 24 hours.